Serial Production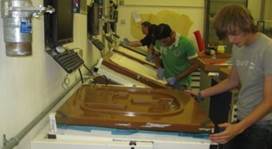 Serial production of composites solutions is ruled by an accurate production and delivery plan, where changes are the exception.
The manufacturing process is precisely evaluated along the value chain and cycle times created in order to meet the production volume without nasty surprises.
Some examples of serial production that Formtech Composites has undertaken:
Battery tray for Supersports car – 3 year program
Special Vehicle – 400 vehicles per annum, with 9 sets
The minimum volume is around 250 – 500 sets per year, and the pre-preg road begins to reach its limits on the existing common procedures at around 1000 sets per tool per year.  Work is currently being undertaken to further reduce process times, with the aim of increasing limits to around 3000 sets per tool per year.